Arnel Artus Art Classes 2017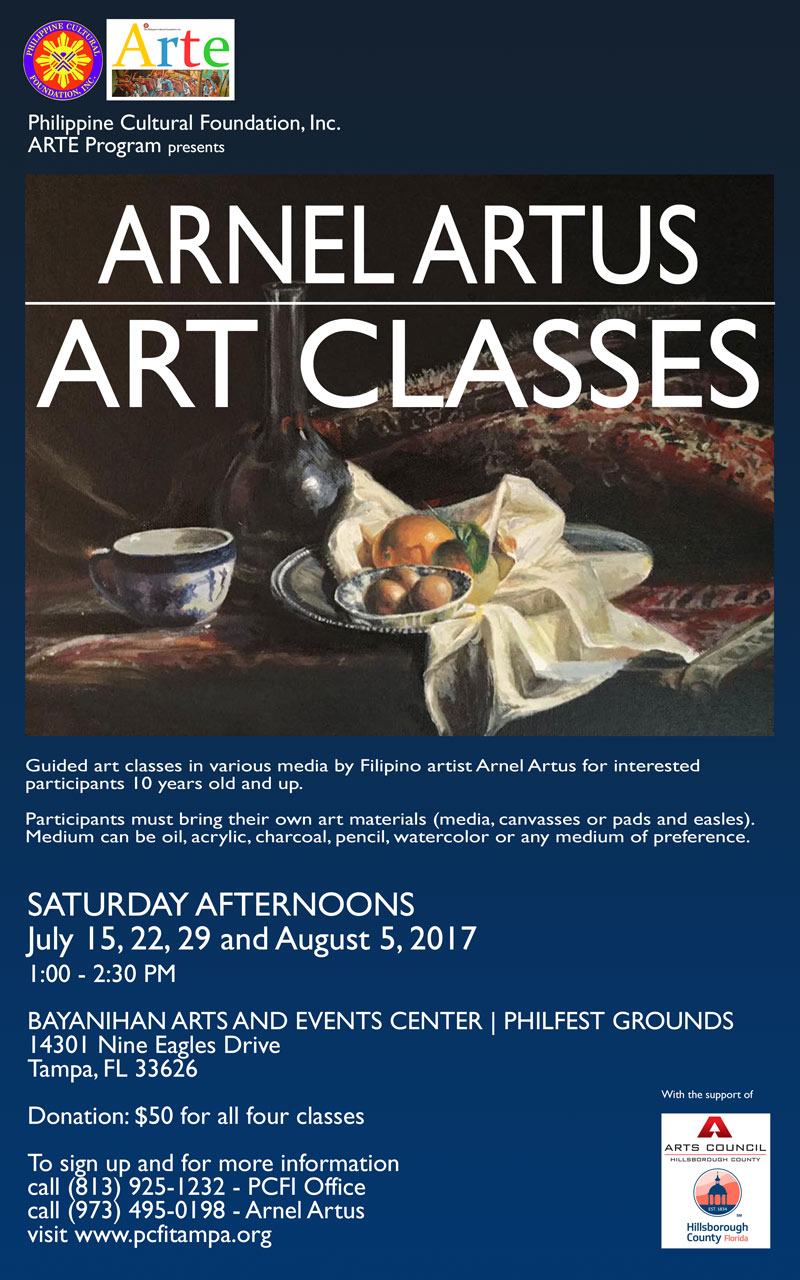 The Philippine Cultural Foundation, Inc. ARTE program is offering a series of four art classes with Arnel Artus this comingJuly and August, 2017 at the Bayanihan Arts and Events Center Veranda de Gianan and PhilFest Grounds of the Philippine Cultural Enrichment Complex in Tampa, Florida. For a donation of $50 for the four weekend series, the classes will be held every Saturday on July 15, 22, 29 and August 5.
Although with a Bachelor of Business Administration background, Arnel Artus is concentrating on being a visual artist, spending his time as art instructor of the Arcc of Tampa Bay Harborside Studio. He was also an art instructor at Michael's Art and Craft Store under Grumbacher Paint. He is also a freelance portrait artist, muralist and landscape, still life and pet artist. He is also an illustrator of Dreams of Tealan children's book.
Arnel Artus is presently a member of the Westchase Artist Society and was involved with the Orlando Art Museum, Museum of Art in Cliffton, New Jersey and the Museum of Modern Art (MoMA) in New York City.
The Arnel Artus Art Class Series is open to all interested artists 10 years and above. Perticipants must bring their own art materials (media, canvasses or pads and easles). Medium can be oil, acrylic, charcoal, pencil, watercolor or any preferred medium of use.
The Philippine Cultural Enrichment Complex's PhilFest Grounds is located at 14301 Nine Eagles Drive, Tampa, FL 33626.
PCFI's ARTE Program is a part of PCFI's Philippine Music, Theater, Dance and Art Program which is funded by the Arts Council of Hillsborough County and Board of County Commissioners and other private funding from generous benefactors.
To sign up, please fill up the form below or for more information, please contact the PCFI office at the Bayanihan Arts and Events Center at (813) 925-1232, contact Arnel Artus at (973) 495-0198 or visit us at www.pcfitampa.org.