Let's Dance!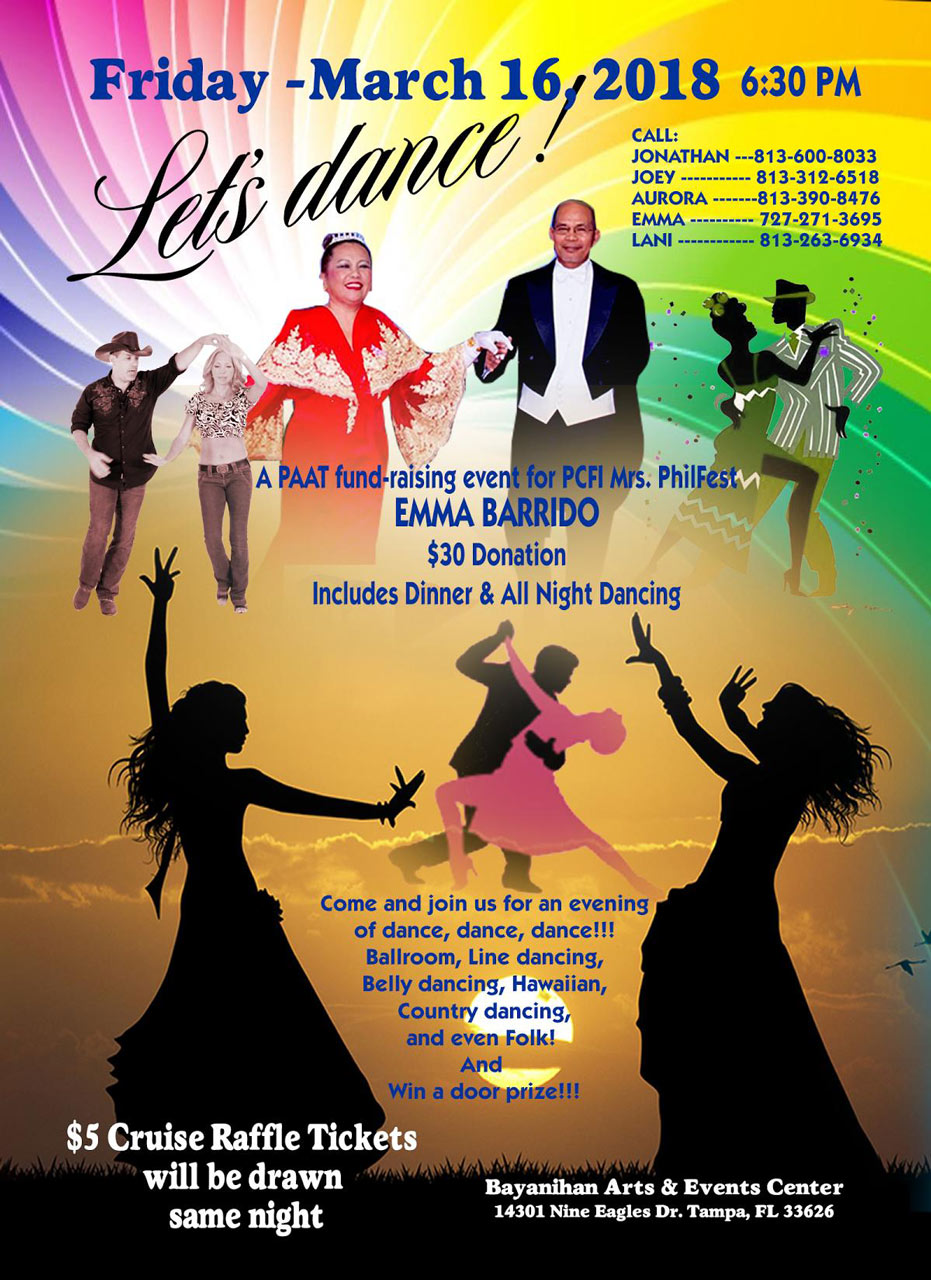 The excitement has started for the upcoming annual PhilFest 2018! As vendors, merchandisers and exhibitors and entertainment are being finalized,  the fundraising competition for all member organizations is also up. This fundarising competition is for the Philippine Cultural Foundation, Inc. (PCFI) 2018 budget for its cultural projects as it continues its goal to preserve the Philippine culture for generations to come. Budget is also alloted for the maintenance of its10-acre property, the Philippine Enrishment Complex and the beautiful  Bayanihan Arts & Events Center.
Member organizations have chosen muses who will represent them in this year's PhilFest in the hope of winning the "Mrs/Ms. PhilFest 2018" crown. This is based on which organization has the most advance and raffle ticket sales and collected donations combined.
So, if you are free on Friday, March 16th, why not join the Pilipino American Association of Tampa Bay for a fun fund raising event at the Bayanihan Arts center as it also presents its 2018 PAAT muse,  Emma Barrido as guests dance the whole night long! All night, there will be DI's leading line dancing, ballroom dancers showing off their talents in dancing the cha-cha, rumba, samba, waltz! For those who love country music, country line dancing will also be played! As always, PAAT guarantees that the evnet is going to be fun, fun, fun!!!!
So, mark your calendars……."LET'S DANCE" on Friday, March 16th 2018 starting at 6:30 pm at the Bayanihan Center. $30 donation includes dinner, DJ music and all night dancing.
The Bayanihan Arts and Events Center is located at 14301 Nine Eagles Drive, Tampa, FL 33626.
Proceeds from this events will benefit the Philippine Cultural Foundation.